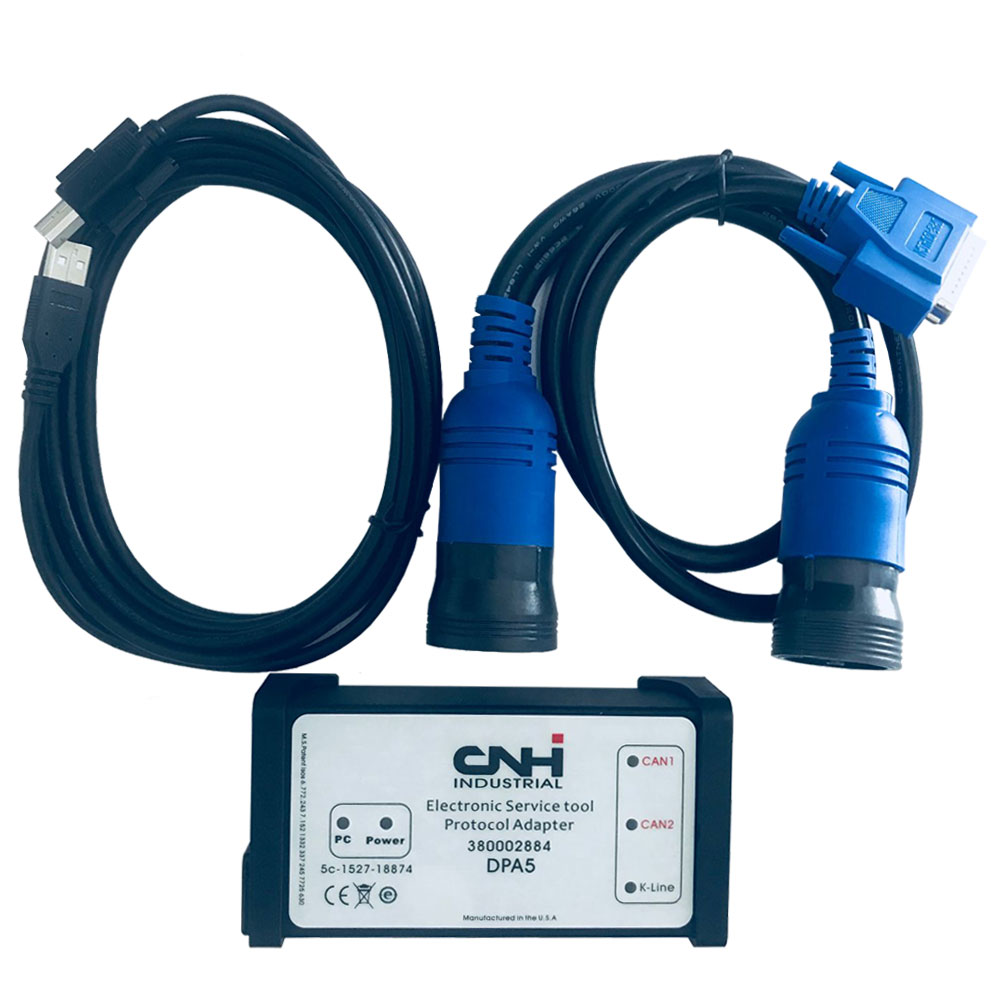 New Holland Electronic Service Tools (CNH EST 9.5 9.4 9.2 8.6)CNH DPA5 kit Diagnostic Tool Plus Lenovo T420 Laptop
Description: The software is 9.5 9.4 9.2 engineering level,CNH EST8.6 software is dealer level.engineering level has more functions than dealer level and CNH 9.4 9.2 is with diagnostic procedure.
CNH Est DPA 5 Diagnostic Kit 380002884 Includes Software 2019 – Full Diagnosis of Error Codes and Reprogramming
Supports New Holland – Housing – Steyr – Case IH – Kobe-LCO – Supports K-Line Connection for Iveco Engines
Software and Hardware – Real-time Online Support
The only tool that supports Windows 7 and 10, 32 and 64 bit. Be aware of cheap counterfeits.
Full online installation and support service included.
Used by dealer technicians to connect to machines that have a controller area network (CAN) bus as part of electronic system architecture.
Box contents:
CNH Dearborn Protocol Adapter 5
3.8m USB Cable
9-pin cable guide K-Line Iveco
Black 6+9 Pin Cable
OBDII + 9 Pin Green J1939 German Cable
Hard case
Supported brands:
New Holland (agriculture and construction).
New Holland FK (Fi at Kobelco).
New Holland O&K (Orenstein & Koppel);
Case (agriculture and construction).
STEYR;
KOBE-LCO;
Iveco (Astra) (joint tipper only)
Flexi Coil;
Sumitomo (S.H.I. );
Supported Tesks:
Check parameter status;
Error retrieving;
Perform diagnostic tests.
Program ECU and parameters.
Monitor active and logged diagnostics.
Display and change ECU configuration
View diagnostic procedures and wiring diagrams.
Troubleshooting
Use ASIST database;
Run scope diagnostics;
E.A.S.y – additional engine diagnostic and download tool for connecting directly to ECU for diagnosis, programming and ECU reloading through K-Line protocol.
CNH Engine Download Tool works within the EST program to perform the following engine download operations:
Provides programming update function for ECU
Provides blank ECU initialization and programming ability
Providing ECU programming for empty and other control units.
Provides ECU download crash recovery
Supported languages: English, Italian, Russian, Polish, Spanish, French.
Package :
1.cnh est DVD for 1 PC activation (we will remote help you installation by team viewer )
2 .Dearborn Protocol Adapter 5 (DAP5 white interface) full New interface for New holland and Case
3.Usb cable
4.New 9-pin Deutsch CNH cable
5.ToolBox
One Year Warranty
Second Hand Laptop Lenovo T420 Laptop Specification :
Brand: Lenovo
Condition: Used
Type:  Laptop/Notebook
Screen Size:  14.0
Processor Type:  Intel (R) Core(TM) I5-2520M CPU
Processor Speed:  2.50 GHz
Processor Configuration:  Dual Core
Memory: 4GB
Compared with other laptop, this one is better quality and run faster.
For more information about Car Diagnostic Tools ,please visit our website service@autonumen.com