Launch X431 PRO MINI is a stylish Android-based vehicle trouble diagnostic tool. It inherits from LAUNCH's advanced diagnosing technology and is characterized by covering a wide range of vehicles, featuring powerful functions, and providing precise test result.
Through the simple Bluetooth communication between the VCI module and X-431 PRO MINI, it achieves full car model and full system vehicle trouble diagnosis, which includes Reading DTCs, Clearing DTCs, Reading Data Stream,Actuation Test and Special Functions.
Moreover,it supports Wi-Fi connection, which enables you surf the Internet,update the diagnostic software online and perform remote diagnosis etc, getting your job fixed faster and easier.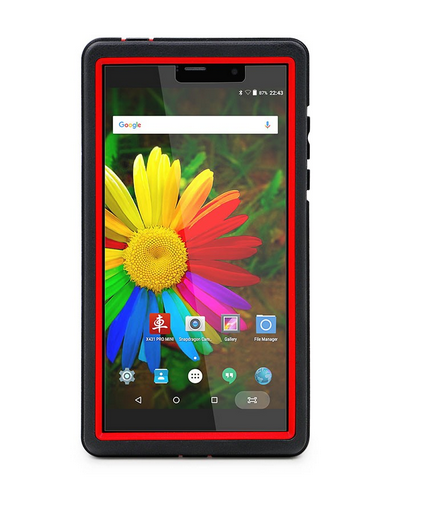 Features
1. Diagnostic Tool:
A. Diagnose
?Diagnose the electronic control system of prevailing vehicle models covering Asian, European, American and Chinese. Diagnosis functions include: Read DTCs, Clear DTCs, Read data stream, Special functions etc.
?Specially designed for Android platform with clear and user-friendly interface.
?Via Bluetooth, it is simple for the VCI module to communicate with X-431 PRO MINI.
?Equipped with an exclusive X-431 PRO MINI protective sleeve to prevent it from being damaged.
B. One-click Update: lets you update your diagnostic software more efficiently.
C. Repair Data: provides abundant automotive handbook, repair case and wiring diagrams for reference and retrieval.
D. Remote Diagnosis: configures X-431 PRO MINI as an I/M(Instant Messaging) tool, which enables technicians to exchange repair experience and perform remote assistance more conveniently.
2. Browser: built-in Wi-Fi module makes surfing on the internet freely.
3. Email: allows you to send and receive emails.LAUNCH X-431 PRO MINI User Manual
4. Settings: to configure your personalized X-431 PRO MINI through it.
5. Applications: other android based applications can be customized to install or uninstall.
If you want know more,pls go to http://www.Autonumen.com/