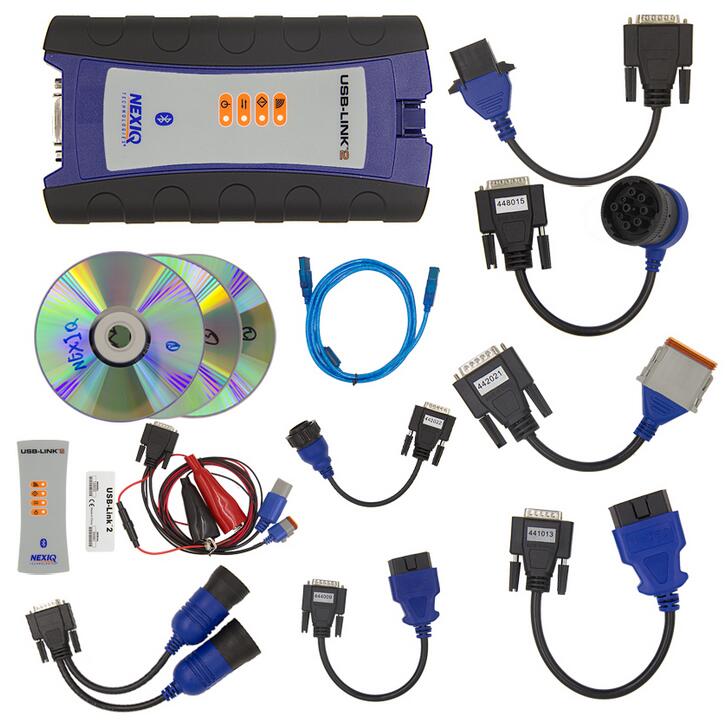 nexiq usb link + Software Diesel Truck Interface and Software is a PC-to-vehicle interface compatible with multiple software applications, minimizing your investment in multiple brand-specific diagnostic. There are some Frequently Asked Questions sa follows.
Q1: Does NEXIQ work with Volvo Bus and Isuzu truck? NEXIQ has no communication with these two vehicles.
A1: Nexiq hardware isnt compatible with Volvo Bus. And our Nexiq only work with North American Isuzu. Nexiq cannot work well with CAT, especially the Asian Cat, Nexiq only support CAT with J1939 and J1708 protocol, but so far most CAT engine is CAT special protocol CDL and J1939 Protocol has not yet come into use.
Q2: When the ECU starts, it shows an error message Received Error Code: 275
A2: The driver isnt installed successfully, and the software cant recognize the hardware.
Q3: I followed the instructions step by step to install the drivers. I didnt have internet connection and I never tried to update the USB-Link. The "POWER" light" got on and the "DATA" & "FAULT" lights go on and off, on and off. And the device manager show and hide the USB-link drive.
A3: This is because you install the original new driver and the Nexiq is broken, you need to return back to us for repair. (Note: please do not install the original software with our hardware. )
Q4: Can I update your NEXIQ 125032 USB Link?
A4: No, do not update NEXIQ 125032 USB Link, or it will not work.
Q5: I bought one NEXIQ 125032 USB-link, after the driver setup finish; I plug nexiq technologies usb link into the computer and all the indicator lights flash, this is not should be like this, what it means? What should I do? Does Nexiq have any problem? (By the way, I followed the setup instruction in the video)
A5: Try to install successfully the software driver and then connect with the car to test the vehicles. Any more questions, please keep contact.
Q6: NEXIQ 125032 USB Link + Software need password?
A6: No, it does need, for more details, please check the user manual in the column "technical support" or under "Related Download Files".
Q7: When connect the Nexiq, The power light, data light and Fault light keep flash fast, whats happed?
A7: You try to update NEXIQ, right? You have to return back us for repair.
Q8: WAS Multi-Diag Truck Diagnostic Tool, Nexiq, DPA5? What is their difference?
A8: both of the three truck scanners are powerful, good quality, best-selling, but there are some differences among them: 1) supported truck models: Nexiqand DPA5  mainly work with American trucks, WAS Multi-Diag Truck mainly work with European trucks. 2) Function: their function is almost the same, mainly support diagnosis and basic programming for a part of trucks, for example: Nexiq support program for Cummins.
Q9: Does Nexiq contain ISUZU IDSS software? IDSS software fail to loading and display CRC error: the file C: \Program Files\IDSS\ images\2007icvch \processed\fullsize\fullb606. rra doesnt match the file in the setup's. cab file.
A9: Please check the setup instruction and step-by-step install the software, and at the same time make sure your computer system support Isuzu IDSS software.
Q10: I am your old customer; I buy from you several NEXIQ 125032 USB Link truck diagnostic tool . But this time, when I open this software: V-MAC III Service diagnostics V2. 6. 12, it display an error message "Unable to read value software\Mack Trucks, Inc\Common\Device ID", then I choose Preferences and then RP123A Device name, but there is nothing in the drop-down box for me to choose Nexiq USB.
A10: Make sure the driver installs successfully and the Patch is installed. Please install the software on another computer, do not install on the computer that you previously used.