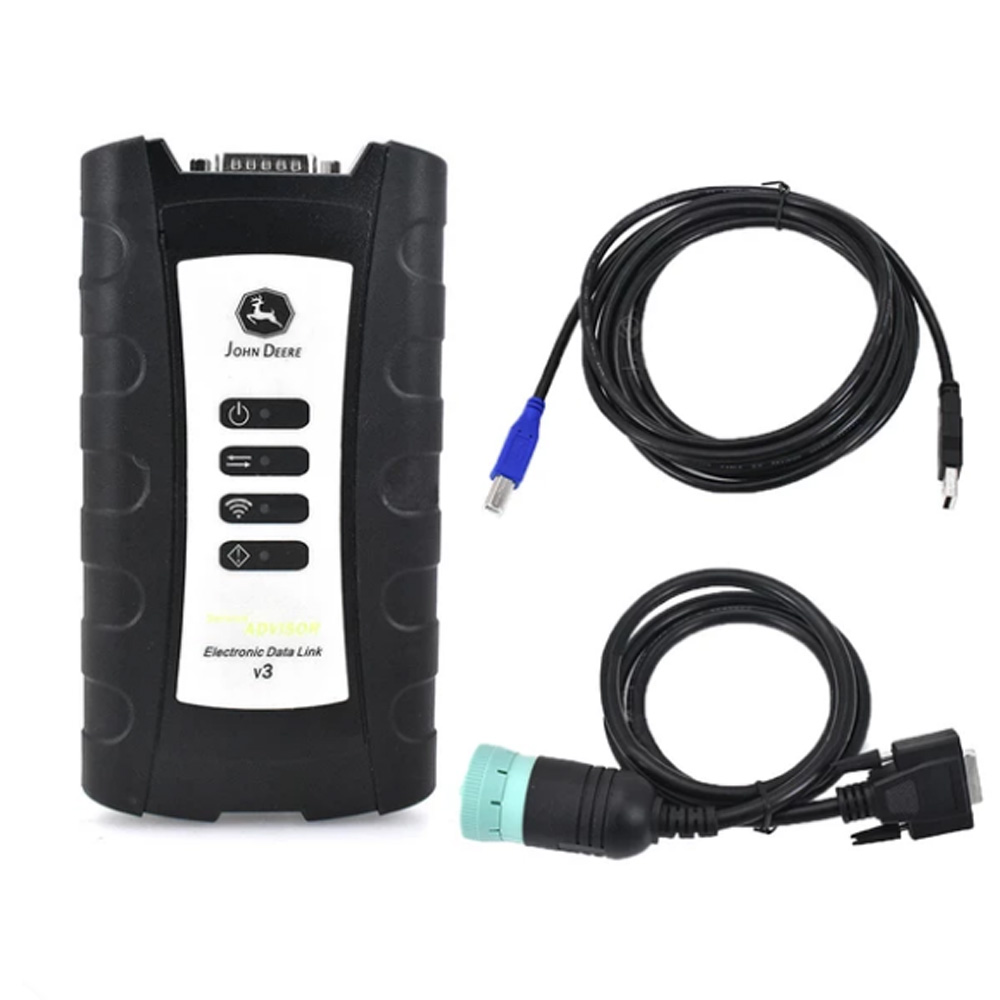 This is a genuine John Deere Service Advisor EDL v3 Kit (replaces EDL v2). The product is delivered in a plastic case. The edl kit also includes the V3 wireless adapter, the W1 connection cable DS10150 and the USB cable. No diagnostic software is included with this item. If required, it can be purchased as an option. The links to the relevant products are below.
Multifunctional John Deere dealer diagnostic tool is designed to serve the construction, agricultural and forestry equipment, as well as various engine technology produced by John Deere.
John Deere EDL v2 version has been replaced by JD EDL v3 kit. New EDL v3 kit doesn't work with Service Advisor 4.2 version.
John Deere EDL v2/v3 drivers are built into the Service Advisor application. Please do not try to install the driver yourself, as using setup files from unreliable sources may cause unstable work of your Windows operating system.
Important NOTE. In some cases, after the Service Advisor setup, the EDL drivers may not install correctly (the yellow exclamation mark next to the driver name) or may even be missing. The main reason is your antivirus application or Windows system settings. For this purpose, JD has officially released the hotfix that allows to reinstall only the EDL driver. Please contact us for more information.
The communication unit s a part of the John Deere Service Advisor system
Functions and technical capabilities of John Deere diagnostic adapter:
– Troubleshooting;
– Setup and Calibration ECU;
– Interactive tests;
– Computer programming;
– Diagnostic Code Reader, and much more.
This scanner is compatible only with specialized software JD Service Advisor 5.2.461 or higher.
This product includes:
– Storage Box (Part # SA5025)
– USB Cable (Part # SA5026)
– DS10150 (Part # DS10150)
– EDL v3 Wireless Adapter (Part # SA5022)
The EDL (Electronic Data Link) v3 diagnostic adapter kit works in cooperation with the dealer software JD Service Advisor™.
With Service Advisor™ you can view service manuals, use DTAC (Dealer Technical Assistance Center) data, make diagnostics, readings, tests and calibrations, re-program controllers.
The most up-to-date versions of the software(The Service Advisor software is not included in the EDL kit; you need to purchase it separately):
JD Service ADVISOR 5.2 [2020] AG (Agriculture and Turf division),
JD Service ADVISOR 5.2 [2020] CF (Construction and Forestry division).
For notebooks running Windows 7/8.1, we can provide the previous version of the John Deere Service Advisor software (4.2)
John Deere no longer supports the Service Advisor v4.2. The last DATA update has been released in June 2016.
But due to lower system requirements (smaller amount of RAM and HDD space), old Service Advisor may be useful, as it supports all the JD models with up to 2016 release year and works great.
John Deere Service Advisor 4.2.006 – Construction & Forestry With History DVD 5/2016    no longer supported by EDL v3 kit
John Deere Service Advisor V 4.2.005 AG Agricultural Machinery 05/2016 With History DVDs no longer supported by EDL v3 kit
Optional products(we will gladly offer you the best price in case of bulk order):
JD Service ADVISOR 5.2 [2020] AG (Agriculture and Turf division)
JD Service ADVISOR 5.2 [2020] CF (Construction and Forestry division)
John Deere Service Advisor 4.2.006 – Construction & Forestry With History DVD 5/2016 no longer supported by EDL v3 kit
John Deere Service Advisor V 4.2.005 AG Agricultural Machinery 05/2016 With History DVDs no longer supported by EDL v3 kit
W1 Connector Cable for John Deere
W2 Connector Cable for John Deere
W3 Connector Cable for John Deere
W5 Connector Cable for John Deere
W6 Connector Cable for John Deere EDL v2
W7 Connector Cable for John Deere EDL v2
W9 Connector Cable for John Deere EDL v2
W12 Connector Cable for John Deere
W13 Connector Cable for John Deere
SA1002 Interface Cable for John Deere