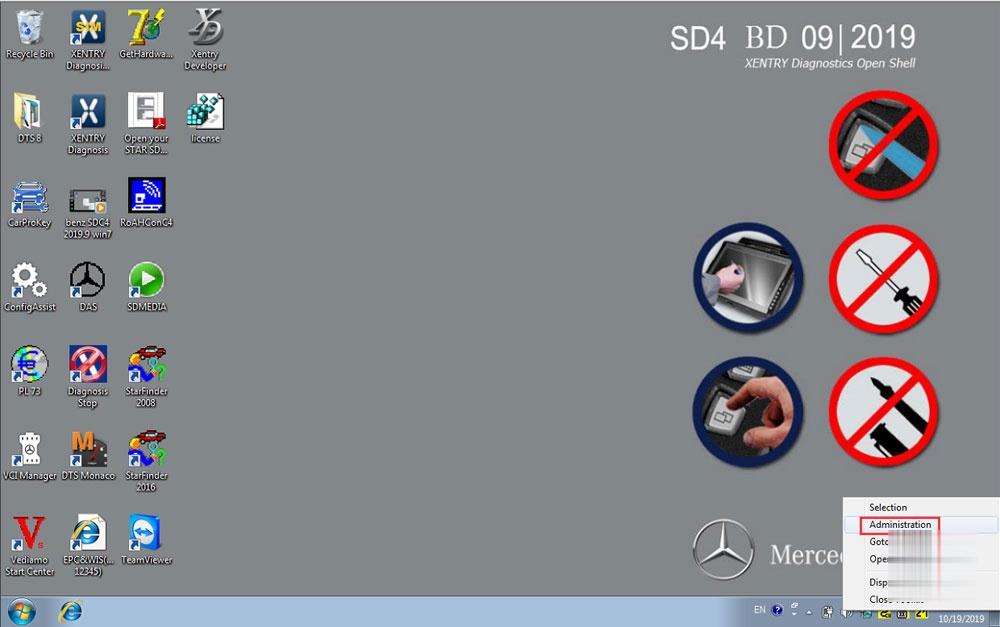 New software come!2018.03 MB SDconnect C4 software (XENTRY/DAS) is verified to work with the sd c4 diagnostic tool without issues. Here is the test report of it.
This is the working mercedes software 2018.03
https://www.autonumen.com/category-185-b0-MB+Star+Diagnostic+Tools.html
256GB Complete New SSD, High quality!
Latest software version: V2018.3
Support Windows 7 system.
NOTE: 
Don't download anything to the software, don't update anything of the software, otherwise the software will break down.(Especially browser such as Google Chrome)
Mercedes bus diagnosis & programming can be done via DAS only, NOT Xentry.
Software languages: Chinese, English, Croatian, Czech, Danish, Dutch, Finish, French, German, Greek, Hungarian, Italian, Japanese, Korean, Polish, Portuguese, Romanian, Russian, Spanish, Swedish & Turkish.
V2018.3 MB SD C4 Software Functions:
1.1989~up to now Car, Bus, Truck, Sprint, Smart ;
2.All electric system Diagnostic;(Do not include flash code)
3.reading trouble code
4.erasing trouble code
5.live-data
6.adaptation
7.component testing
8.maintenance
9.information consultation
10.component location diagram
11.wiring diagram
Testable systems:
ENGINE
AUTO-SPEED
AIRCONDITIONAL SYSTEM
SRS
ABS
ASR
MPL
GM
Bz ORIGINAL ANTI-THEFT
DASX SYSTEM
KEYZESS GO SYSTEM
OBD-II SYSTEM
Product software includes: (Version: 2018 )
1. D-A-S /
Xentry
2018.3: the automatically Diagnosis Assistance System
Concise interface and straightforward operation with IB M high-quality computer can realize the quick and accurate code reading and the whole car system testing
2. W-I-S net 2017.10: Workshop Information System
Supply the whole view of the wiring diagram in a car, component location diagram and maintenance method. What you do is to enter the chassis number, and then you will get the manufacture data, engine configuration and the car model -all in detail.
3. EPC.net 2017.10: Electronic Parts Catalog
4. ST Finder: Part Location Finder options: 2008 and 2016
5. STARUTILITIES : the movement management system and self-test
6. SDMEDIA 2014
7. PL71: 2016 Mercedes software with PL70
Work With:
SD Connect C4 Mercedes diagnostic tool from
https://www.autonumen.com/goods-5219-MB+SD+Connect+C4+with+Super+Engineering+Software+DTS+monaco+And+Vediamo+Plus+EVG7+Tablet+Support+Offline+Program.html
Note: there are many versions of sdconnect china clone; please check the PCB design and make sure your mux is working with the software before you wanna purchase the software.
BTW:another verison:2018.3 MB SD Connect Compact C4 Software HDD Version link
https://www.autonumen.com/category-163-b0-MB+Star+Compact+C4.html